Our Story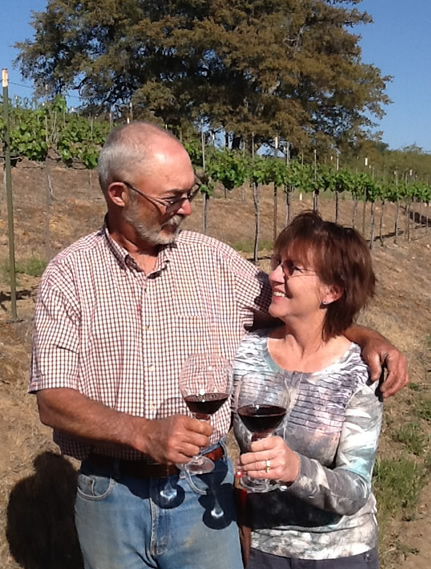 Mesa Grande Corazón Winery is owned and operated by John and Phyllis Bremer in the mountains of San Diego County near Santa Ysabel, California. The heart shaped property, at 4000 feet of elevation, had no grape growing history when we purchased the land in 1997. However, we identified the perfect south facing vineyard site where the soil is clay loam, with excellent moisture retention, and protected from the wind.
Uncertain what variety of grape would do best at this elevation, in the Spring of 2000, we planted 13 different varietals in our test nursery to see which would flourish. Clones of cabernet sauvignon and cabernet franc were selected that are vigorous and drought hardy and can survive a late spring snowstorm. Because a great bottle of wine begins with the farmer, each certified cutting was carefully planted, taking into account spacing and terracing. The trellis system is important because it opens the vine to air and sun exposure.
Our straw bale home, winery and vineyard are completely off-the-grid, utilizing solar power. We employ natural farming practices, compost our grape-must and prunings and use no synthetic chemicals or pesticides on the vines. The majority of our property is open space so that native oaks and wildlife can thrive alongside our farm and wine business.
We are the stewards, the farmer and the winemaker. At Mesa Grande Corazón, wine is not a commodity for us; this is our life and our passion. When you taste our wine, you are enjoying the close attention that is given to each vine grown on the property.