Our Wine
Mesa Grande Corazón wines are grown, produced and bottled at our San Diego County mountain vineyard and winery. Here is our current inventory: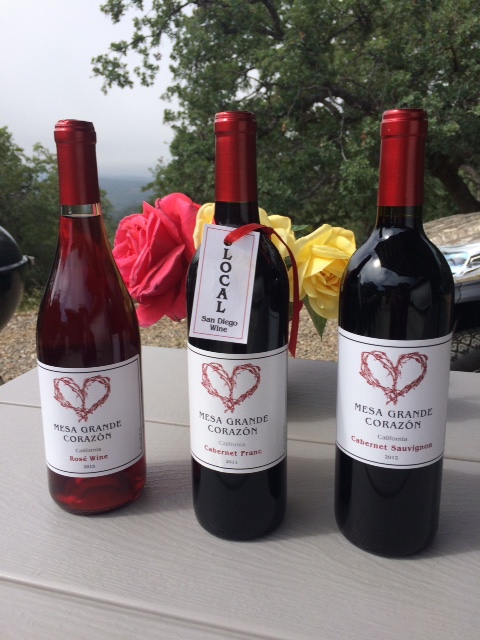 2011 Cabernet Franc. Produced in a European style, open tank fermentation, with French yeast and oak. Dry with notes of tobacco, licorice and cedar. Alcohol 13.5%. One of our very first releases in 2013 where it went on to win an award that year at the San Diego County Fair Commercial Wine Competition.
2012 Cabernet Franc. Very dry, smoky cherry. Huge nose, big tannin structure. Extended maceration, 2 years medium toast French oak. Made to age. Alcohol 13.5%.
2012 Cabernet Sauvignon. Dry, medium bodied, lively acidity, notes of black currant and cherry. 2 years in French oak. This wine is made to age. Alcohol 13.8%
2013 Cabernet Franc. Notes of cherry and delicate fruit, dry and light bodied. Short fermentation, no extended maceration, 8 months in medium toast French oak. Lower in alcohol (12.8%) and favors a light chill.
2013 Cabernet Sauvignon. A full bodied red. 26 day fermentation (13 day extended maceration). 8 months of medium toast French oak. Notes of cherry and cassis, fruit forward. Medium tannins. Alcohol 14.8%
2015 Rosé Wine. A dry, hearty cabernet rosé produced from equal parts estate cabernet franc and cabernet sauvignon. Notes of green apple, wild cherry and strawberry. No oak. Alcohol 12.9%
Note: Mesa Grande Corazón 2012 Grenache Rosé and 2013 Cabernet Franc Rosé SOLD OUT.
---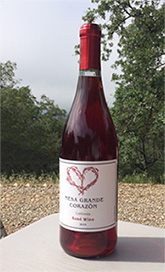 Our wines are truly handmade and not overly manipulated. At the winery, we use de-stemmer equipment only and do not crush the grapes thereby eliminating broken seeds in the must. This gentler form of grape processing results in softer tannins, and a better expression of the varietal flavor and character of place or terroir.
Mesa Grande Corazón wine is carefully crafted in a traditional style, not filtered nor cold stabilized, thus it is likely the bottle may contain a small amount of harmless sediment. So, go find that wonderful cut-glass family heirloom in your hutch – decant and enjoy!
Find our wines in quality markets in San Diego County and Los Angeles.